Bollywood comes to visit us at Provanston!
15th September 2022
So we were lucky to have Bollywood come and visit us for a few days here at Provanston. And we have captured lots of it on film in our latest vlog. Back in the early summer, our neighbour David from Woodart.scot put a film company in touch with us. David's property was going to be used as a film location in August for a Bollywood thriller that is due to come out on either Amazon Prime or Netflix next summer. And the crew and actors were needing a place to base themselves whilst not on set. So David suggested us as a place to be based, we were contacted and the rest is history. Watch our vlog below…
Bollywood does riding lessons
So the crew all turned up on a sunny weekend in August. First, the production team arrived to get things set up for filming. Then the three main actors who were in the film arrived with the two lead actors having two of the farmhouse bedrooms as a base, one in each room. Doljohn Singh was the first main actor that we got to meet and spend a lot of time with. And what a fun, friendly, down-to-earth guy he is! He loves animals which was a bonus being here on the farm with us and our menagerie! He spent a lot of time playing with the dogs and patting and feeding treats to the horses. So I suggested he may like to ride if he changed out of his costume so as not to get it dirty… which he did. And so the horse riding lessons began!
And Diljohn (DJ) loved getting to ride Aiden. Next up were Vishal (makeup artist) and Bhagyashree (costume designer) who also wanted to have a go. Vishal you could see had clearly had some riding lessons before. He did well remembering the basics and was able to hold a nice posture and do a bit of trot work on his own. Then Bhagyashree had a go. She was very excited about getting on a horse and says she felt inspired to do more riding after visiting us. And to finish off the riding lessons some of the extras even had a go! Aiden got an extra big dinner that night to reward him for his hard work.
Seeing on set and meeting the other actors
On the third day of filming we got to go on set! And it was exciting to see how it was all done and see the actors in action! Here we saw DJ acting alongside Sobhita Dhulipala and Divyendu Sharma in one of the key scenes of this Bollywood thriller. And we are really looking forward to seeing this scene when the film is out next year. We got to see it being made so know what went into it being created.
We got to sit and chat with Diljohn, Sobhita and Divyendu when back at the farm. The weather was good for us so we sat outside at our picnic table one of the evenings and chatted while they waiting to go on set. What struck me was how friendly everyone was. For being famous Bollywood actors there was no air of superiority whatsoever. Just nice friendly people who held good conversation and laughter. We spent a lot of time with Diljohn and nearly ended up joining him and Vishal on a trip to Balloch. We are hoping they will come back and visit us in the near future.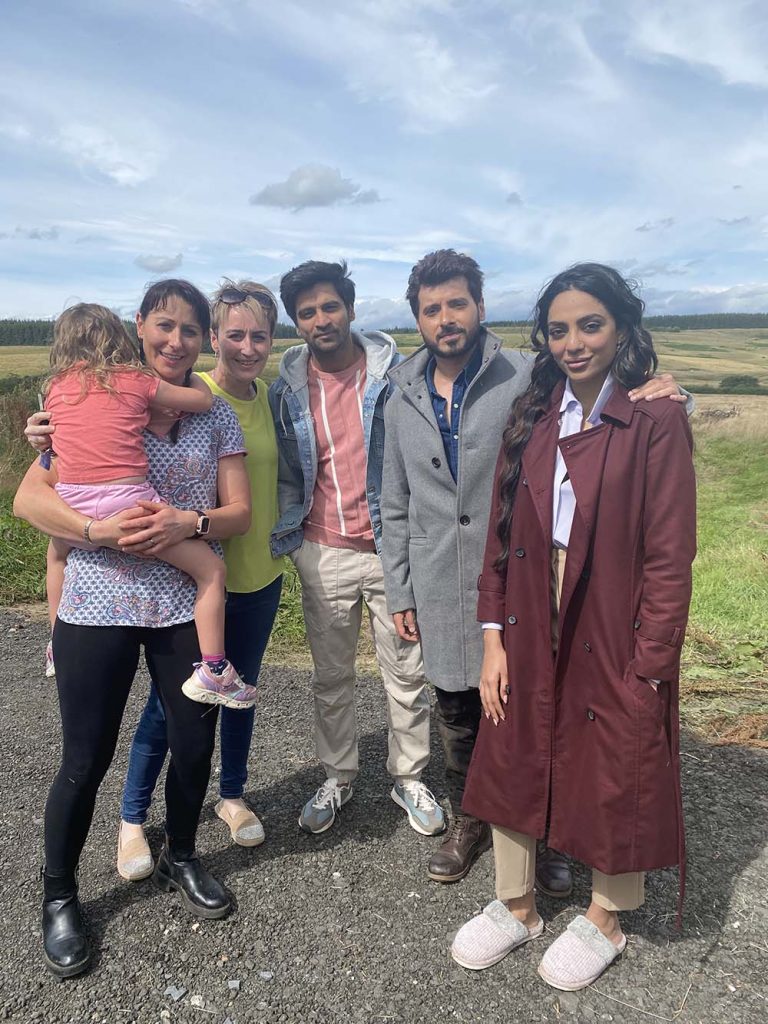 If you want to follow our journey through our vlogs you can subscribe to our YouTube channel and see all that is going on at the farm. Until next time…
Get in touch >
You may also be interested in...