Livery yards near Stirling – a quiet yard with an indoor school
If you are looking for full livery yards near Stirling then we can offer this service here at Provanston. This is subject to if space is available. Important to point out is that we only offer one to two spaces at our yard. So we do not operate as a busy yard. And we only offer full livery. If this sounds like what you are looking for then read on!
Book Arena Hire
Our livery yard facilities
So might be wondering what facilities we have. We are very lucky to have a lovely indoor arena with a carpet fibre surface. We and our horses love it! Furthermore, we have American barns style stables with everything under one roof, perfect for keeping you dry in our Scottish winters and summers! With a wash bay and storage area for your stuff, there is plenty of space for all your horse needs. We also have a horse walker which can be used at a half-hourly rate at an extra cost. Additionally, we have outdoor pens. This is great for winter turnout if the fields are needing a rest or if needed for injury recovery.
Book Arena Hire
What's included and how much
Included are daily muck out, turn out, bring in, ad lib hay, 1 bag of sawdust bedding per week, use of the indoor arena (see note), night time checks, automatic water drinkers, rubber matted stables and rug changes as necessary. Our horses are in at night in the winter and out during the day unless our weather is too bad. And in the summertime, we aim to have our horses out as much as possible depending on the weather and flies. We offer full livery at £125 per week.
Contact Us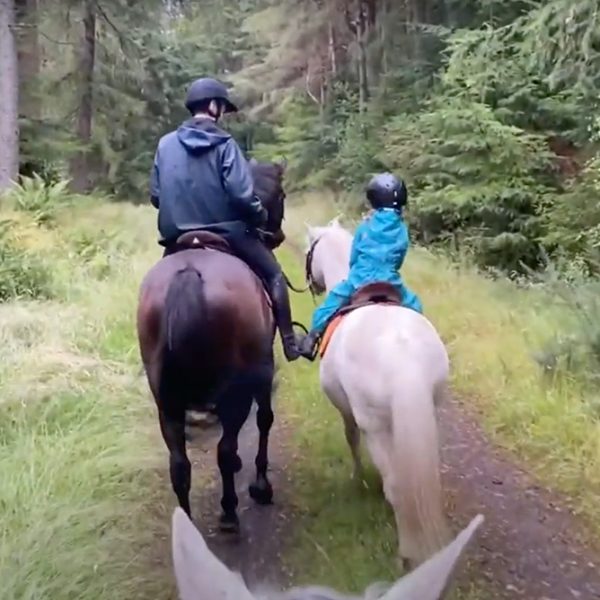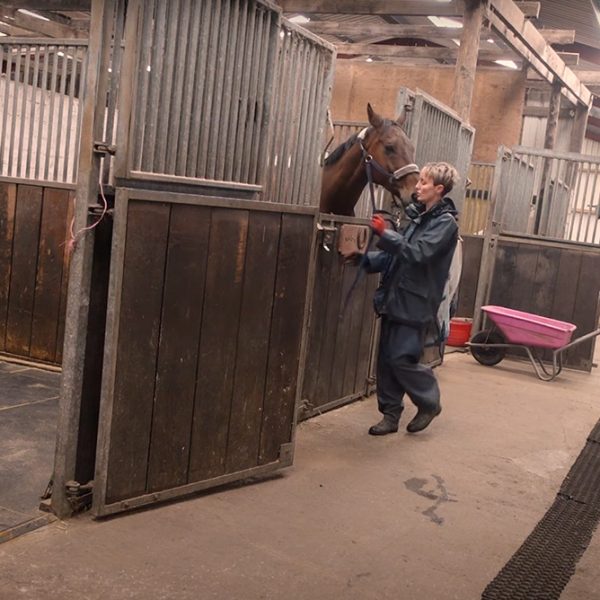 Our location
We are located in a beautiful part of central Scotland, just outside the picturesque village of Fintry. There are a couple of hacks from the yard but you need to ride part of a road to access the quieter areas. So we always ride in hi-vis with a helmet cam. However, if you have transport, we have ample of wonderful hacking nearby. There a multiple forest hacks up by the Carron Resovoir, some great hacks up the hills around Kippen and Gargunnock. Furthermore, 25 minutes from here Drymen forest offers great tracks, and slightly further afield there is Loch Ard and Callander offering more choice! And all have beautiful scenery to behold.
Get in touch if our livery yard near Stirling sounds like what you are looking for
So if you are looking for livery yards near Stirling and this sounds like what you are looking for then get in touch with us today and we will be happy to chat things through with you in more detail. And if you want to find out more about us, who we are, what we get up to and all the antics of out farm you can follow us on here on YouTube.
*NOTE: Use of the arena is shared if others want to ride at the same time, if you want exclusive use there is an extra cost and the arena is available at all times unless exclusively hired.
See What's On